As we expand as a company, we have to think even more so about how we can make each and every visitor to our website have a better and safer experience – regardless of if they are a customer or not. With this in mind, I have made two fairly significant updates to the HostedFX website.
A new payment gateway – Google Checkout
Google Checkout is becoming quite popular lately. If you haven't heard of it, it is quite similar to the ever-popular PayPal. "With Google Checkout you can quickly and easily buy from stores across the web and track all your orders and shipping in one place." So far, we have found the fee's on transactions to be slightly lower than PayPal's and the whole interface is extremely pleasing on the eye and pleasant to use.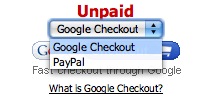 For this reason, HostedFX now accepts Google Checkout as a payment method for all new orders and invoices for existing customers. Simply select Google Checkout from the drop-down box when paying an invoice. The only downside that I've found of Google Checkout is that there is no option for subscriptions; so for those of you who prefer to use a subscription, Google Checkout probably isn't for you just yet.
The client area is now even more secure
We've decided to go ahead and add SSL encryption to all of our transactions and activity within the client area (notice the new URL). For those of you who are not aware of what this means; "An SSL Certificate refers to the digital certificate used with the most popular security protocol on the Internet. When you make a purchase on the Web and notice the closed lock icon at the top or bottom of your browser or the HTTPS:// prefix in the URL, it means you have established a secure SSL connection."
Two simple updates, which have meant more flexibility along with a greater sense of security for all of our clients. As always, if you have any suggestions just let us know.
Thank you,
Gareth Hodson
HostedFX Web Hosting CEO.